branding
In the past, branding simply meant designing a good logo. Today, branding is much more than that. It's bringing consistency to all the elements that communicate who you are. That includes a strong logo; but it's also the choice of a color palette, a distinctive font family, recognizable design elements, and consistent messaging. I can help strengthen your visual identity, whether it means creating a new image, or fine-tuning your existing brand.

playbills
My freshman year in college, I was thrilled to be given a role in Arsenic and Old Lace. I played a dead body. Although I don't get on stage much anymore, I still love the theater: whether I'm sitting in the audience, designing a set, or creating the marketing.  I especially enjoy the challenge of creating a consistent series of posters for very different productions. Take a look through the playbills section, and see which series is your favorite.

print design
During my first job as a designer, the commands "cut" and "paste" were accomplished with an xacto knife and hot wax. There have been many changes in the past three decades, but the principles of good design remain the same. I still love playing with fonts, searching for the perfect photo, and scrolling through hundreds of Pantone color options. What could be more satisfying than to distill an idea, a story or an emotion into a strong, simple image?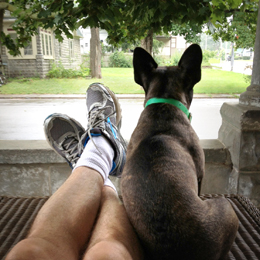 I love my french bulldogs, boeuf bourguignon, and reading a good murder mystery on my front porch.
Oh yeah, and I've been a graphic designer for over 30 years.